♠
The problem :
Ordinary websites do not display well on mobile devices such as phones and ipods. Your potential customer or visitor skips to somebody else's website.
♥
THE SOLUTION :
A mobile-friendly site from
Coconut Island Software
... Gives mobile visitors a totally different experience!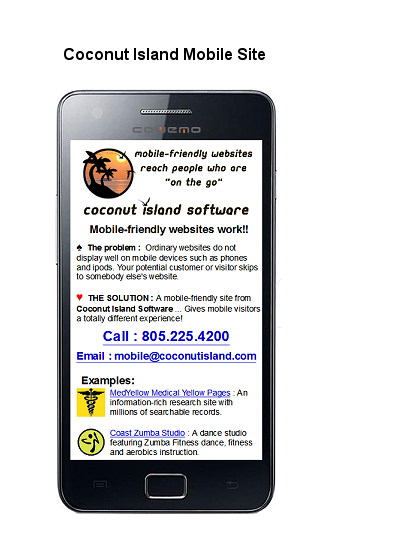 Reach People On the Move
Optimize YOUR Website for Smart Phones

69% of Internet Users Use a Mobile Device
Make Sure YOUR Site Gets Found


Call us Today for Your Mobile Friendly Web Site

One Size Does NOT Fit All
We Listen To YOUR Business Needs


Discount Websites from $200

Includes Page Design, Contact Page,
Domain Registration, 1 Year Hosting



Reach Out to Mobile Users



Interactive Databases
Search Engine Development
Web Directories RSS Feeds
Map API and Geo Location Data
Linux Server Administration

Unix | Linux | Apache
PERL | PHP | JavaScript
MySQL | pSQL | Oracle | BerkeleyDB
XML | XHTML | HTML5 | CSS3
---
Examples: Mobile Site vs. Full Size Web Site
Coast Zumba Studio
: A dance studio featuring Zumba Fitness dance, fitness and aerobics instruction.
---
Health Care Hiring
: Search from millions of jobs nationwide and find health care employers in your area.
---
MedYellow Medical Yellow Pages
: An information-rich research site with millions of searchable records.
---
Eco Cleaning
: An environmentally friendly cleaning and janitorial company.
---
Coconut Island Software, Inc. 630 Quintana Rd. #233, Morro Bay, CA 93442
Contact Us
805-225-4509
For NPI Registry website corrections: corrections
Copyright © Coconut Island Software, Inc. All Rights Reserved.
copyright questions ? privacy policy !
corrections